If it says

"Made in China,"


it probably came
from Yiwu

About 300 kilometers south of Shanghai, in a hilly region of China's Zhejiang province, the world's largest wholesale emporium rises atop ancient agricultural bartering grounds. The Yiwu International Trade City, which opened in 2002, is a symbol of China's strength in world commerce. Yiwu supplies humanity's largest offline selection of mass market consumer goods: clothes, electronics, furniture, appliances, vehicles, jewelry, toys, and beyond.

Luring international merchants with polylingual signage, easy visa access, and bulk value, Yiwu exports 65% of its inventory, including 60% of all Christmas decorations worldwide. There's a good chance that you own something from Yiwu: that stuffed lion you won at a fair, that replacement power cord for your phone, or even that Eiffel Tower statuette you purchased at a souvenir shop in Paris.

The growth of a marketplace like Yiwu is no surprise to Justin Leverenz, Director of Emerging Market Equities at OppenheimerFunds. "China has shifted from a manufacturing driven economy to one centered around the consumer," he explains. "The country has been and will remain the dominant growth engine and one of the world's greatest centers of innovation and new businesses."
It's hard to describe Yiwu's size,
but statistics help
With a leasable area of 5.5 million square meters, Yiwu is over 10 times larger than Mall of America. It's seven kilometers long, divided into five airport-size "districts" connected by air bridges. As one reporter discovered, it's faster to take a 20 minute motorbike ride around one of Yiwu's buildings than it is to cross within. Yiwu's labyrinth of 62,000 shops serve 40,000 daily visitors from 219 countries and regions.
If all of Alibaba were
brick-and-mortar, it
would look like Yiwu
The distinguishing characteristic of Yiwu is that every shop is specialized. There's a shop that sells only saw blades, another that sells only wheels, and entire floors dedicated to socks and fake flowers.
The rise of China's e‑commerce giants
E-commerce in China is sweeping. Last year online sales in China hit $366 billion, almost as much as in the US and Britain combined, and China's share of online shopping is predicted to rise to 31% by 2020. In an era when Chinese e-commerce companies like Alibaba and Tencent are trouncing world competitors, Yiwu symbolizes how sizable China's international retail impact is, and how physical retail can evolve with digital platforms. Nearly all Yiwu shops have digital storefronts on Alibaba, which Jack Ma founded by sourcing inventory from Chinese mass markets like Yiwu.
Leverenz elaborates on this growth, explaining: "The retail market has historically been underdeveloped, but now we have this enormous growth in e-commerce, which is exploding everywhere, including the US, but more so in China. The gross merchandise value (GMV), of Alibaba for the fiscal year ending March 31, 2018 was $768 billion, which is more than four times that of Amazon."
The Silk Road starts here
Keenly aware that Yiwu requires a steady flow of foreign buyers, local governments require local schools to teach in Chinese, English, and even some Arabic. Likewise, despite their size, Yiwu's districts have been designed to be easily navigable, spotlessly clean, and fully modern. Yiwu has automatic roof windows, a rainfall collection system, solar energy generators, and plenty of food vendors. The market is bounded on the west by a string of hotels for visiting buyers and restaurants to toast new deals. Recently, a 12-day freight rail opened between London and Yiwu, which connects to Yiwu's lines to Madrid, Riga, Tehran, Kabul, and Astana. The freight line forms part of president Xi Jinping's "One Belt, One Road" initiative. Leverenz adds "Over the past three decades, growth-at-any-cost has been the paramount goal. In the coming decades—in our view at OppenheimerFunds—the focus will be on sustainability, fairness (social mobility), and productivity improvements. Quality growth along with economic reform will be used as policy instruments to achieve these objectives."
An ecosystem of commerce,
and life itself
Yiwu's steady growth creates many economic opportunities for its 200,000-plus vendors, many of whom are direct representatives of nearby factories. Yiwu's corridors explode with community life, including vendors' children, who come after school to get help with homework and explore Yiwu's thousands of toy stores. Yiwu's spirit of production also extends to suburbs and countryside, where people sew in homes and sell products to vendors.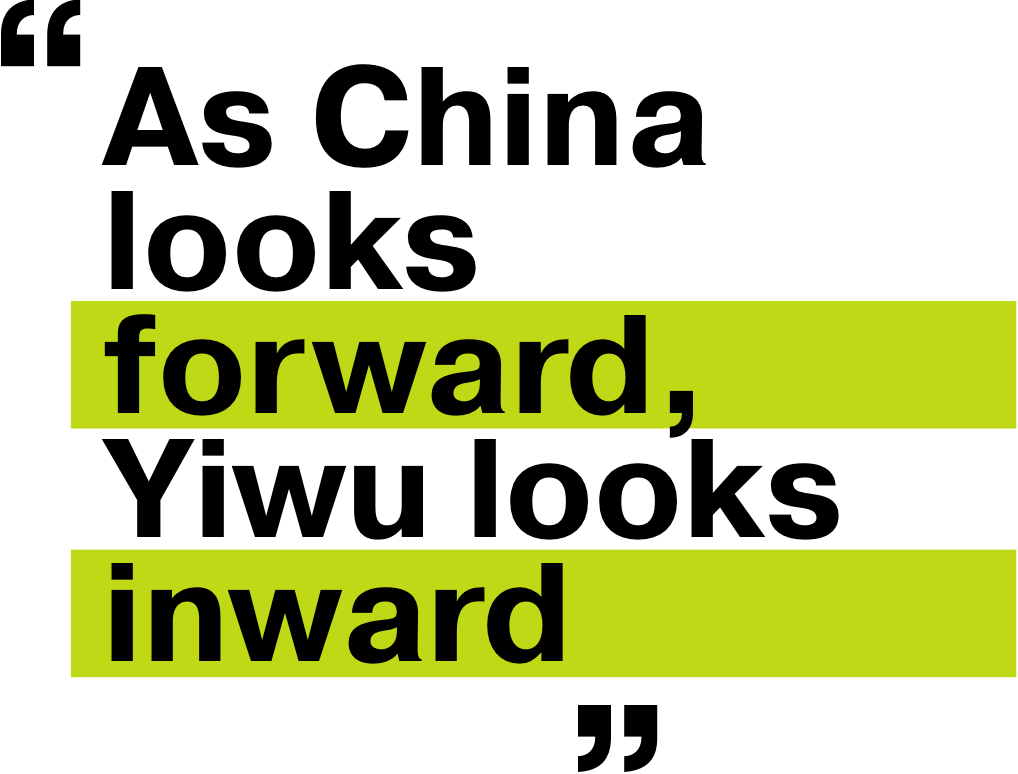 Historically, Yiwu, like China broadly, has looked outward for consumers. But with China's newly-minted middle class expected to grow to one billion by 2025, Yiwu is refocusing on domestic consumers, who already account for 40% of global retail e-commerce activity. That growth is further enabled by technological advancements across verticals, including a mobile payment market led by Alibaba and Tencent that is a whopping 11 times as big as America's. For Yiwu, that astronomical growth requires perpetual reinvention. Shops are constantly evolving to accommodate demand for newer, high-quality inventory—all still labeled "Made in China." And the wave of new demand is just getting started: as Leverenz points out, "88% of the next billion entrants to the middle class will be from Asia, and 350 million of these will come from China."